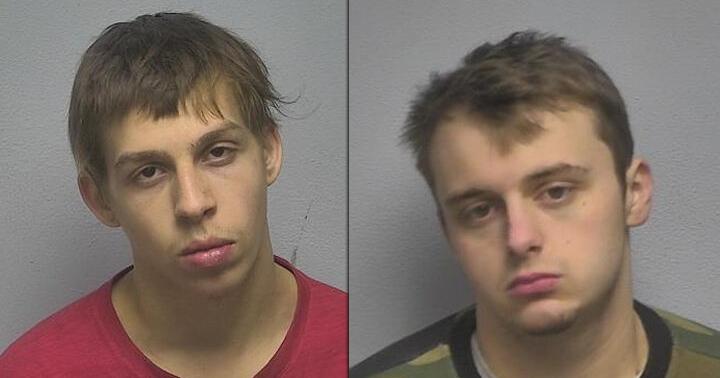 Two men charged after local business robbed, woman assaulted in nearby home | News
PADUCAH— Two men – one 18 and the other 19 – have been arrested after police say they robbed the same business in Paducah twice in 24 hours. One of the men is also accused of assaulting a woman in her home, which is on the same street as the robbed business.
Police say Ferguson Facilities Supply on Bloom Avenue was burglarized once Friday morning and again that night. In the first burglary Friday morning, a Ferguson Facilities Supply employee arrived at work to find two men inside the building. Police say when the employee confronted the men, they fled the warehouse with a cart full of goods. Officers then found the items behind the warehouse.
Officers were called to the warehouse again on Saturday morning as the business was again robbed on Friday evening. While at the scene Saturday morning, a detective learned that officers had responded earlier that morning to investigate an assault at a nearby home.
A 55-year-old woman living in that home told investigators that 18-year-old Camron B. Cutrer was at her house Saturday morning when he began arguing with her over the missing money. Cutrer allegedly started destroying things inside his house. When she tried to have him arrested, police say he assaulted her, threatened her, took her phone and wouldn't let her leave the house.
The police department said when officers found Cutrer he fled but officers were able to quickly grab and arrest him. The department says investigators found some of the stolen items nearby, and Cutrer allegedly admitted to both burglaries at Ferguson Facilities Supply during an interview with police.
The police department also obtained and executed a search warrant at the Bloom Avenue home. There, detectives found 19-year-old Julian T. Parker. Investigators say Parker had stolen items from the warehouse in his pocket at the time, and he also allegedly admitted to participating in both burglaries.
Both men were arrested and jailed in McCracken County Jail.
Cutrer was charged with third-degree burglary, second-degree assault, second-degree unlawful imprisonment, robbery by unlawful taking under $500, second-degree flight or escape from police and third degree criminal mischief.
Parker has been charged with two counts of third-degree burglary.