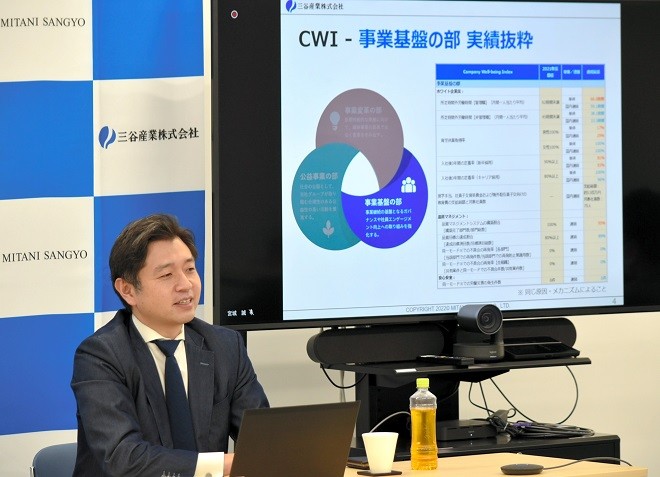 The entrepreneur demonstrates creativity for the benefit of the company and the employees
KANAZAWA – Entrepreneur Tadateru Mitani has pledged to make his business here "friendly" for all parties involved, including employees, and sustainable as a "good business".
"The current heightened interest in the SDGs (United Nations Sustainable Development Goals) should not be quickly lost as a temporary trend," said Mitani, 37, CEO of Mitani Sangyo Co.
Mitani Sangyo, a long-established company that has handled chemicals and plastics used in automobiles for more than 90 years, has effectively abolished its mandatory retirement system for employees.
While employees of the Hokuriku-area company listed on the Tokyo Stock Exchange's First Main Market can retire at age 60, they are allowed to continue working there for additional years indefinitely.
Staff members are entitled to severance benefits twice: when they reach the normal retirement age of 60 and when they decide to terminate their contracts with Mitani Sangyo themselves.
FRAMEWORK FOR LIFETIME EMPLOYMENT
The unique continuous employment system, reported in the Japanese edition of The Asahi Shimbun in February last year, was introduced at Mitani's initiative to meet the needs of a variety of older workers ranging from those caring for grandchildren or elderly family members in need of care engaging in lifelong learning.
Some of them would like to work the same way as before retirement, but others hope to perform different tasks.
Mitani told a press conference at the time that he would build a 'new lifetime employment framework', so that all employees can design 'appropriate working levels' taking into account their circumstances. personal.
Other business owners may take a negative view of the new system, asking, "What will you do if employees abuse the abolition of mandatory retirement to stay in the office forever?"
Mitani, however, said that was not the point, saying employers should value older staff members against the backdrop of aging Japanese society, as they have greatly contributed to shaping corporate climates.
Mitani admitted that he "maybe was too naive", but proudly summed up the purpose of the decision during the press conference.
"I feel like I get little holes in my head every time an employee leaves," Mitani said. "The climate of a company is made up of the personalities of all the employees. Without even a single employee, the business could be different. I find it sad every time I hear a resigning employee saying goodbye.
Mitani insisted that's the "natural feeling" people have about the issue.
"I believe various businesses not only in Kanazawa but across Hokuriku or Japan will share this sentiment," he said.
The impressive words of Mitani, who was born into the founding family of Mitani Sangyo, sounded like those of Panasonic founder Konosuke Matsushita.
While Matsushita considered its "employees like families", it is rare these days for young entrepreneurs to buy into this notion.
DISSEMINATION OF NON-FINANCIAL BAROMETERS
More recently, in an attempt to disclose information, Mitani published specialized non-financial management indices in hopes of keeping his company a "good company".
These elements, which do not appear in the financial statements unlike business performance or tax issues, must be presented by companies to investors.
More and more investors are increasingly interested in factors that are not reflected in financial statements, as the SDGs are widely accepted and investments are more often made in environmental, social and governance (ESG) companies .
Additionally, the TSE is asking companies listed on its Prime Market – one of three new segments set up following the market's recent restructuring – to make their climate change business risks available.
Prime Minister Fumio Kishida's administration has announced that it will establish rules for companies to publish non-financial data related to "investments in human resources" as part of its "new capitalism" policy.
In this way, business operators are under increasing pressure to reform their disclosures.
The indicators designed by Mitani Sangyo are called Company Well-Being Index (CWI). Although "wellness" usually refers to people's state of mental and physical satisfaction, the standards were named so in Mitani's belief that the idea applies to business in the same way.
The barometers were also developed at the request of Mitani. As of late 2018, it took over two years to complete.
Concrete targets and actual results are expected to be unveiled for each fiscal year, and data for fiscal year 2021 was released in April.
When asked why he decided to disclose non-financial information, Mitani responded in his peculiar way at the company's headquarters in Kanazawa.
"I feel very strange and doubt that people should just jump on the bandwagon in accordance with the concept of the SDGs," Mitani said.
ACT BEFORE THE SDGs
So many people currently wear the pin representing the 17 SDGs with a colored ring on the collar of their suits that it can easily be found on the streets.
Mitani said he started to feel about three years ago that it was "foolish for everyone to just pin or label projects as contributing to certain goals" in the SDGs.
This thought crossed his mind, as Mitani Sangyo had taken a series of actions for the good of society based on the values ​​that the company considered particularly important before adopting the concept of SDGs.
In Vietnam, one of its main business bases, for example, Mitani Sangyo offered an education program for college students opened under a Japanese-Vietnamese government agreement. It also delivered tableware produced by its affiliate company to residents affected by a natural disaster.
Mitani said the CWI was created as part of efforts to assess the results and progress of these activities against self-imposed criteria.
"Pushing the SDGs like chanting spells won't help," Mitani noted. "I wanted to continue taking socially good action even though no attention was paid to the concept of the SDGs."
The standards were not inspired by previous examples from different companies, but by repeated internal discussions, so the content of the CWI differs from that of any other similar barometer.
It should be noted first of all the three categories constituting the CWI of "corporate foundation", "corporate reform" and "non-profit enterprise".
The segmentation is based on the idea that the three perspectives of stabilizing the business base, achieving balanced growth for short, medium and long-term gains and achieving the private and public interest at the same time are essential for that companies are continually considered good. .
The Corporate Foundation division presents topics on improving the work environment and compliance to enable employees to work safely, such as the rate of use of male parental leave, statistics on accidents at work and the percentage of quality objectives achieved.
What is particularly surprising is that the payments of the "educational allowance" are included in the section.
Since Mitani Sangyo relies on a performance-based pay system, low-rated workers receive reduced wages.
The stipend aims to cover school fees for the children of staff members with reduced salaries with no obligation to reimburse, preventing them from being deprived of opportunities to study.
Compensation can be described as an important form of "investment in human resources", since the difficulties in the lives of young people arising from the repayment of student loans have become increasingly problematic in society.
The corporate foundations category also includes elements that help create a corporate climate where misconduct will not occur.
This gives other commercial operators strict guidelines.
FREEDOM IN NON-FINANCIAL DATA
Citing recent scandals involving Mitsubishi Electric Corp. and Hino Motors Ltd., it is obvious that irregularities in product quality could put companies at risk.
Laying down the foundations of business is not enough for businesses to consistently prove themselves useful to society. The business reform segment therefore aims to nurture a revenue stream to support medium to long-term growth.
The number of activities designed to create new projects that have gone so far as to be disclosed via press release distributions are now available to the public.
The nonprofit business department shows how much money is pumped into programs that are not profitable but have social significance like those in Vietnam and disaster areas. The results of these activities are also presented in the section.
Mitani's effort to spontaneously disclose non-financial information through great effort offers a vital lesson.
The terms "greenwash" and "SDGs wash" have been used frequently lately to refer to companies claiming to preserve the environment or achieve the SDGs without any concrete effort to do so.
The widespread disclosure of non-financial data is to be welcomed. But this type of information is not easy to assess in quantitative form, which makes it difficult to implement standard disclosure rules.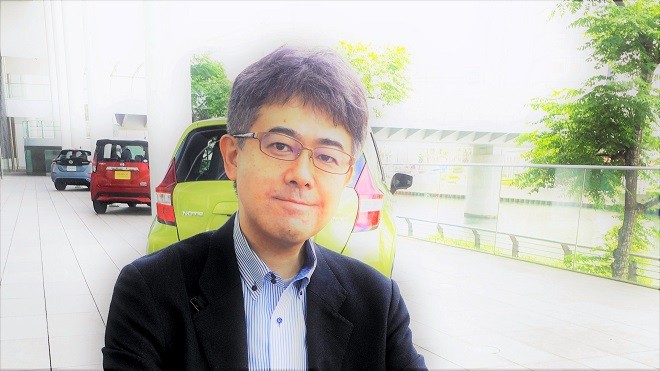 For this reason, it would not be surprising if the imposition of uniform disclosure rules on all companies would lead to more companies only superficially taking countermeasures.
The lesson is that there needs to be room for the development of criteria for disclosing non-financial data so that companies can use their own creativity like Mitani Sangyo.