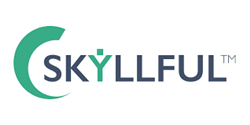 Skyllful partners with the University of Texas at Dallas to bring hands-on experience to engineering and computer science seniors
PLANO, Texas (PRWEB)
September 21, 2021
Skyllful, one of the main suppliers of a mobile digital adoption platform which helps frontline workers use mobile apps and devices more effectively and efficiently, today announced a new partnership with the University of Texas at Dallas (UTD) and its UTDesign Capstone program that connects engineering and computer science students with local companies in collaborative efforts to develop innovative solutions to complex challenges. Skyllful's partnership will connect senior UTD graduates with the company's work to develop enhancements and new features for its technology platform that provides on-demand on-device training to frontline workers through scenario-based simulations. Three student teams will work specifically on innovation projects to integrate artificial intelligence (AI), big data and extended learning management system (LMS) support into platform functionality. existing Skyllful.
"We look forward to working with the talented computer science and engineering students at UTD," said Ben Bishop, vice president of digital technology and experience at Skyllful. "Gaining work experience in a real-world environment is so invaluable for students looking to jumpstart their careers and we will greatly benefit from their new perspectives on a variety of innovative projects over the coming months. "
The UTDesign Capstone program pairs senior engineering and computer science students with companies looking to undertake and complete various innovative projects over a multi-month program. Previous program sponsors include Cisco, Texas Instruments, Raytheon Technologies, and many more. To date, 3,811 students have completed UTD Capstone projects through 786 sponsored projects. Projects created with various companies throughout this program have won nine top-place national awards since 2014.
"We are delighted to team up with Skyllful to provide a group of our students with the opportunity to work with a local technology company like Skyllful that is at the forefront of innovation," said Rod Wetterskog, Associate Dean, Jonsson School of Engineering and Computer Science at UTD. "Throughout the history of our UTDesign Capstone program, we have had great success with our students who have developed several award-winning projects with various companies in various industries. We look forward to seeing the fruits of our partnership with Skyllful.
Skyllful's platform is the first and only digital adoption platform designed specifically for mobile workers. It supports both new digital deployments and the onboarding of new hires and is designed for project managers, change managers and IT managers, proven to increase productivity. and maximize investments in technology. Skyllful's platform was recognized this year with three major industry awards for innovation and excellence: a 2021 SaaS award for the best SaaS product for learning management or training; a Gold Award for Best Business Learning / Workforce Development Solution at the 19th Annual American Business Awards®; and a 2021 BIG Innovation Award from the Business Intelligence Group.
About Skyllful

Skyllful is a leading provider of a mobile digital adoption platform that helps frontline workers use enterprise mobile apps more effectively and efficiently in the delivery of essential products and services. With deep expertise in cutting-edge mobile technology and best practice field deployments, as well as a management team with decades of experience working with large teams and mobile apps, Skyllful offers on-demand training. on the device via scenario-based simulations. Whether a business is deploying a new critical workforce application or looking to improve workforce engagement with existing applications, the Skyllful platform is easy to use, intuitively designed and proven. to increase productivity and provide a better return on investment in technology. Skyllful is based in the greater Dallas / Ft. Texas Value Zone. For more information visit https://www.skyllful.com and follow on Twitter @Skyllfulco.
Share the article on social media or by email: