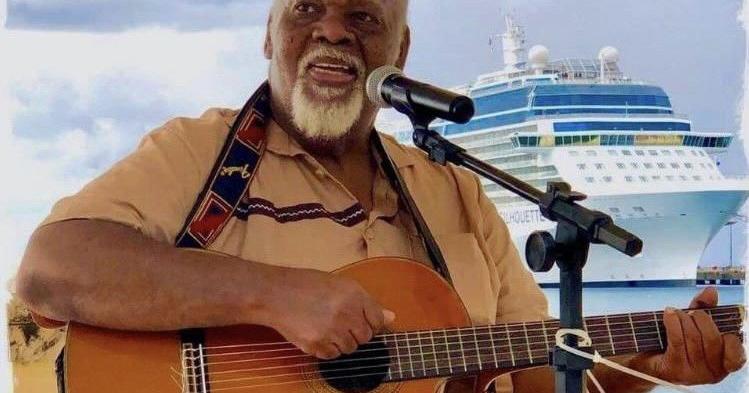 Residents mourn culture bearer 'Doc' Petersen | News
ST. CROSS — Eugene 'Doc' Petersen, son of the land, historian, musician, veterinarian and revered pillar of the community, died early Sunday morning. He was 73 years old.
The news of Petersen's death shocked many, especially in St. Croix, where just days ago he announced that volunteers were to set up new chairs at the Island Center for the Performing Arts.
Willard John, also a culture bearer, said Sunday he was still trying to come to terms with the news of Petersen's sudden death. John had spoken with Petersen a few days before he was preparing for a routine procedure and was looking forward to seeing him soon.
"He had surgery on Friday and his sister said everything went well, so we were just waiting for him to recover and planning to go see him on Monday," John said. "When I woke up this morning and she told me he had passed away, I was just stunned. Our community lost a strong pillar and I lost a treasured friend.
John has known Petersen for over 40 years and bonded with him through their love of animals and music.
"He also loved horse racing, and in the mid-1990s he took over horse racing on the island, and I worked with him as he put things in place to introduce simulcasting and account betting," John said.
Petersen began singing as a teenager and learned to play the guitar, which he used to accompany himself.
He excelled at calypso, but was a walker who sang various genres of songs. His accomplishments, after retiring as a veterinarian, included live performances at several restaurants and clubs, including Ocean View Café, where his rendition of old hits like "Under the Boardwalk" greeted patrons at Sunday brunch.
Petersen's musical training also took him around the world as he toured as a solo artist, with other musicians and even with the Caribbean Dance Company.
"His music is known and loved everywhere because he has traveled to India, Denmark, parts of Europe, all over the United States, the Caribbean and elsewhere," John said.
Petersen was like family — to himself and to countless others, John said.
"He was one of the nicest people you'll meet and he had a great personality that could never be forgotten."
Many, he said, would call on Petersen to participate in community programs with cultural or historical significance.
"It didn't matter who it was, once we called him and asked him to perform for our young people or our seniors, he jumped at the chance, and we'll never forget him," John said. .
Petersen, who was born in Frederiksted, graduated from St. Croix Central High School in 1968. His affection for horses and other animals led him to Tuskegee Institute, and in 1975 he became the first Islander in the Virgin to obtain a doctorate in veterinary medicine. He returned to his beloved Sainte-Croix and opened his own veterinary hospital in La Grande Princesse, where he practiced for 25 years.
Governor Albert Bryan Jr. remembered Petersen on Sunday, noting in a released statement that he and First Lady Yolanda Bryan "join a grieving Virgin Islands community today to express our shock and sadness" to Peterson's death.
"Doc was many things, but most of all he was a true friend and ambassador of our rich Virgin Islands culture. Like many, I was fortunate to have his friendship and to receive his sage advice on politics, horse racing and other political matters relating to the arts and culture of our Virgin Islands," said Brian. "He was always positive and enthusiastic about the progress of our community and generously contributed his time and wisdom to this progress. He was truly one of a kind and will be sorely missed. »
Artist Lucien Downes also fondly remembered Petersen, noting that when he returned home eight years ago, Petersen supported his dreams.
"He was supportive of my artwork and supported me as a young virgin islander who came home and wanted to better our community," Downes said. "I helped him with things he was doing at Island Center and he was just one of those people who I knew would always support me."
Downes said Petersen will be missed because he was genuine in what he did and inspired people on many different fronts.
"He was a great man, he loved St. Croix and its people and mentored so many people," Downes said. "If I had to use one word to describe him it would be 'inspiring' because he truly inspired people to do more, to give back and to spread love, even when he was just himself and didn't know that. he had an impact."
Petersen has served on numerous boards, including the VI Veterinary Board, the Frederiksted Economic Development Board, WTJX public television, and the Island Center for the Performing Arts, where he also served as executive director and worked to revitalize the amphitheater hurricane-ravaged at the time of his death.
He has been an integral part of the production of Sunset Jazz, Wednesday Evening in the Park, Blue Bay Jazz Festival and Virgin Islands Cultural Exposé and Extravaganza. He was among the artists scheduled to perform April 13 at Sunset Jazz's planned anniversary tribute to beloved Frederiksted businesswoman Unise Tranberg, who died in January.
John said he was in the infancy of coordinating a musical tribute to Petersen.
"He touched so many people and shared the stage with everyone. I think it would be appropriate to bring our talents together for him for a dynamic send-off that would be separate and apart from anything that goes along the lines of his funeral," he said. "We will miss him, no doubt, he will be greatly missed."