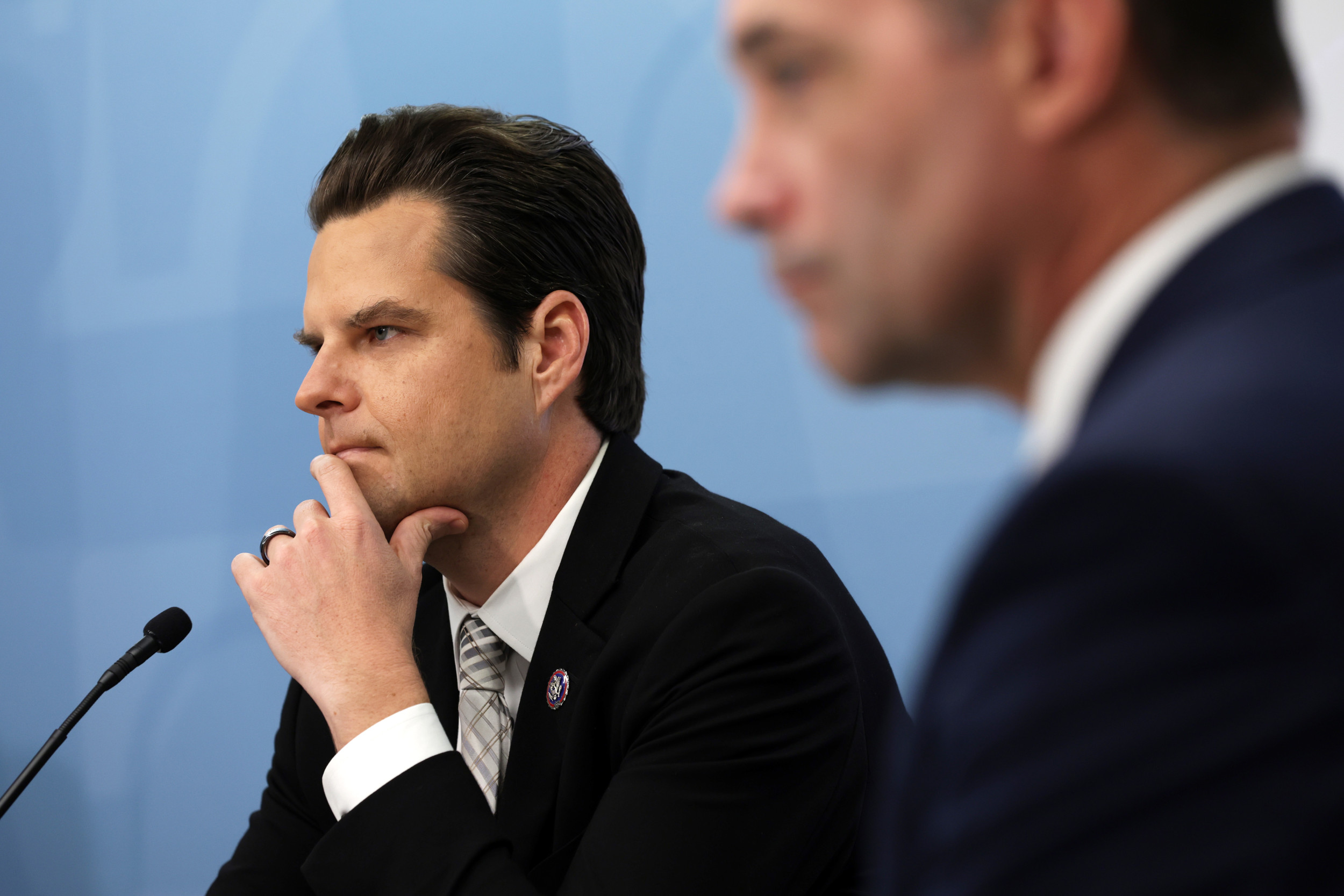 Matt Gaetz mocks McCarthy, McConnell, McDaniel after midterm: 'McFailure'
Republican Rep. Matt Gaetz spotlighted three key GOP leaders Thursday in an apparent mockery after his party failed to see Tuesday's predicted "red wave" midterm.
Gaetz tweeted the names of House Minority Leader Kevin McCarthy, Senate Minority Leader Mitch McConnell, and Republican National Committee (RNC) Chair Ronna McDaniel, then ended the message with "McFailure."
Although Gaetz did not elaborate on the meaning of the tweet, McConnell, McCarthy and McDaniel have all come under fire for their leadership following the GOP results on Election Day.
"MP Gaetz's tweet speaks for itself," a spokesperson for the MP said. Newsweek.
Some critics of McConnell, McCarthy and McDaniel have suggested they should all be ousted from office. Lawyer and podcast host Eric Matheny, for example, tweeted Thursday that all three "have to go" because their "establishment interests do not align with those of the majority of American conservatives."
The party was expected to secure major victories in the House, which is currently controlled by Democrats, and possibly in the equally divided Senate. Although the GOP has won more seats in the House and Senate so far, with a number of races waiting to be called, Democrats appear to have prevented Republicans from dominating the midterms in a so-called saying red wave.
By Thursday morning, Republicans had managed to win 208 seats in the House of Representatives, still short of the 218 they need to overthrow the House. That's still a better performance compared to Democrats, who currently control the House but had just 184 seats as of Thursday morning.
As for the Senate, Republicans had 48 seats Thursday morning and Democrats won 46, with only a few races still to be won.
Ahead of Tuesday's vote, two experts said Newsweek on Monday that they expected significant Republican gains, especially in the House.
Richard Groper, a professor in the political science department at California State University, said he expected Republicans to take the House by about 20 seats, but thought the Senate would remain split 50-50, which gives control to the Democrats because of Vice President Kamala Harris. decisive vote.
Robert Stein, a political science professor at Rice University, said he expects Republicans to get at least 20 seats in the House and could reach 25. Republicans have won so far . Stein also said he thinks the GOP could win a one- or two-seat majority in the Senate.
Newsweek contacted McConnell, McCarthy and the RNC for comment.
Update 11/10/22, 12:15 PM ET: This story has been updated with a statement from Matt Gaetz's office.