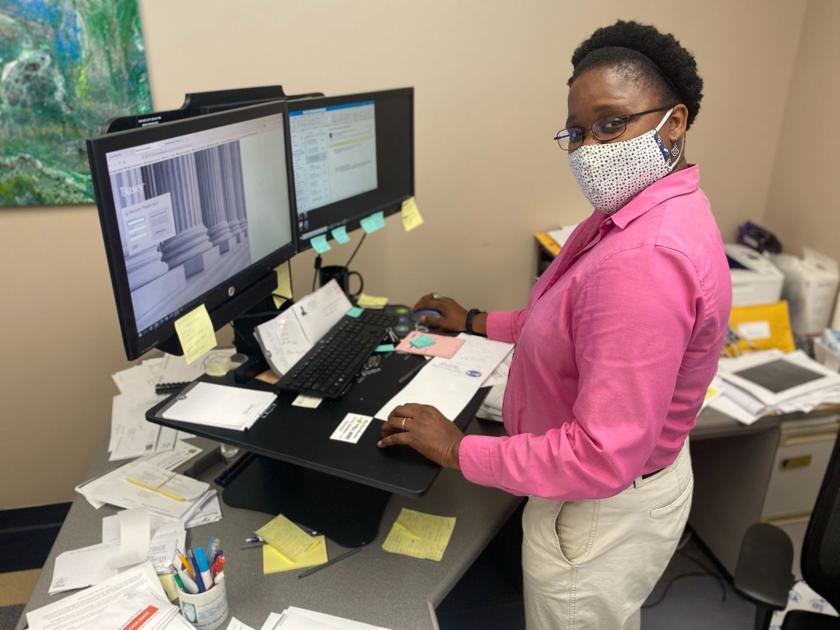 Beyond the Boardroom: Champaign County Treasury Secretary Cassandra'CJ 'Johnson | Contractor
[ad_1]
Three things you might not know about the Champaign County Secretary of the Treasury CASSANDRA'CJ'JOHNSON: She grew up in Brooklyn, joined the Air Force at the age of 17, and comes from a family of public servants.
Oh, and one more thing: she absolutely hates shopping aggressively.
"After about 10 minutes in the store, I can feel myself jumping into the birdhouse," says Johnson. "Usually my partner does the shopping for me, but sometimes I have to go to places like farmers' markets. It is an acceptable purchase.
Seven months ago, Johnson got the finance chief's office back on track by voting in the office to fix what his opponents have called the division's "garbage can fire". Your organization will improve. "
During his 22-year career in the Air Force, Johnson was a Hebrew and Arabic linguist, Iraqi weapons intelligence analyst, and German finance director / operations supervisor. And a diplomat in Southeast Asia.
Johnson took the time to answer a few questions from the editor Jeff Darescio The 81st Weekly Quick Read shines a light on leaders of organizations large and small.
---
My favorite moment in this job is … Helped a client who roasted me from start to finish.
I felt this was one of the best times as I helped her out while she was doing a standing routine at my expense. It only got more hilarious when one of my coworkers informed her that I was treasurer and she really started teasing me.
I can't live without it … My music and my weird sense of humor. This is what connected me to my spouse, and I tend to sing songs in my head all the time, which usually helps me keep laughing inside despite the situation.
For example, when there are difficult people trying to help, I usually associate them with songs in an interesting way. It helps me to keep the smile at the center when dealing with them.
My philosophy of meetings is … KISS Otherwise you will lose people, so keep it short and simple.
No one is thrilled to sit down in a real-life soliloquy.
The hardest part of becoming a leader is … Maintain a healthy balance between compassion and responsibility.
When you build a good, dynamic team, they're like family and it's never fun to chat with them.
Well, unless you're right. MDR.
One of my unbreakable rules at work is … Communicate If you don't tell someone what's wrong or what you want to say, don't be upset if the other person can't read your mind.
Plus, if you let them guess, you might not like the crazy things they've come up with...
The biggest business risk I have ever taken is … Quit my job as a linguist and go to work as a diplomat. The extra skills I learned there helped prepare me for this job and it worked.
The last luxury I indulged in … Before you retire here, travel to Greece, Jordan, Egypt and Israel. Petra was by far the best part, as I was finally able to find out about the history including the treasure.
The most informative college course I took was … A distance education course in ethics at California State University Dominges Hills.
This was useful because there was an instructor who not only delved into the content surrounding the topic, but also assigned books that only the teacher had to pay for. Talk about a suspicious crash course in ethics.
I wake up every day … 5:30 am / 6:00 am Normally you need 20 minutes of wagering before you go to school, but then you go to the office. I have been a morning person since I was little, so I have no hope now.
The worst job I have ever experienced is … I work in a cafeteria for a freshman in college. The job was cool and I got to meet a lot of people, but my boss was like a mean mother-in-law.
On a scale of 1:10, the impact of the pandemic is … 6. Before all this, we were planning a trip to Hungary, Vietnam, Fiji and Puerto Rico. Other than that, the lack of interaction definitely made me feel like cabin fever.
Thank you for taking action and allowing us to be more open.
Beyond the Boardroom: Champaign County Treasury Secretary Cassandra'CJ 'Johnson | Contractor
Source Link Beyond the Boardroom: Champaign County Secretary of the Treasury Cassandra'CJ 'Johnson | Contractor
[ad_2]