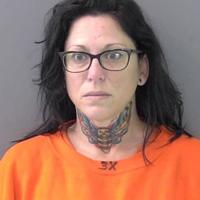 Belton woman charged with DWI with child charge | Business
A Belton woman was indicted by grand jurors on Wednesday after allegedly driving drunk with a 14-year-old passenger after leaving a domestic dispute.
Amanda L. McGinnis, 40, was charged with misdemeanor DWI with a child under 15, a felony in state prison.
At approximately 2:26 a.m. on April 16, Bell County Sheriff's Department deputies were dispatched to the DN Watts Lane area for a domestic disturbance, according to an affidavit of arrest.
"The reporting party indicated that one of the disturbance participants left the scene in a red Dodge Charger," the affidavit reads. "A deputy reports he was in the area when he heard the call and shortly after passed a red Dodge Charger heading towards FM 439 matching the vehicle description."
The vehicle was stopped and McGinnis was identified as the driver and a 14-year-old as the passenger, according to the affidavit.
Deputies asked McGinnis out of the car and, according to the affidavit, she told them she and her husband had an argument but declined to go into specifics.
During the interview with McGinnis, deputies detected the smell of alcohol coming from his breath.
"When questioned, she admitted (to a deputy) that she drank six 12-ounce glasses over several hours," the affidavit reads.
Deputies conducted field sobriety tests on McGinnis. She was arrested after allegedly failing the tests, according to the affidavit.
The 14-year-old was handed over to a parent at the scene.
At the Bell County Jail, according to the affidavit, McGinnis was tested on a breathalyzer and reportedly had a blood alcohol level of 0.16, twice the legal limit.
McGinnis posted $10,000 bond on April 25.